Lyn Magill - Lover Of Life
When we started Best of Belfast on Instagram our main aim was to share the incredible stories of incredible local people. The first story we connected with was the inspirational tale of how Lyn Magill climbed Divis Mountain during her cancer treatment.
Therefore it only seems right that the first story we share on our website is Lyn's!
We caught up with Lyn and her husband Richard over a cup of coffee to find out more about their story.
Check it out.
OK Lyn, you're in an elevator with Liam Neeson. How do you introduce yourself?
"I would say I'm a different person then I was before my diagnosis 8 months ago Before it would have been Lyn Magill: mum, wife, customer service operator... now it's Lyn - lover of life.
How did you find out you had cancer?
Discovering the lump was different to the cliches you often hear. In magazines, they often tell you about a pea sized lump well in my case it was absolutely massive. It grew very quickly and literally came out of nowhere.
It grew very quickly and literally came out of nowhere. I remember being in the bathroom in work and feeling it, after that, it was like we were thrown onto the set of casualty. It happened very quickly and before we knew it we were ushered into a sombre doctors office with two soft seats and a sullen faced consultant looking at us. We just looked at each other and knew that we were about to get bad news.
When he started to speak it was like being underwater, you hear sound but you don't make it out. Or Richard always says it's like the teacher in Charlie Brown, they are talking but you can't make out what they're saying.
Nothing goes in.
There's only so much they tell you at that point because they know that you just can't process it and take it in.
The staff were excellent from the get go, they took me by the hand and kept telling me 'you can do this' but without a doubt, it's a kick in the teeth.
We had lost friends around that time to cancer and we would often say "they're not the type of person to get cancer"
Was there a defining moment that you can clearly say 'this is when I got cancer?
It's funny, I found myself going through my Instagram feed and looking at recent photos thinking 'did I have it in this picture?' or 'was it that day?' but the truth is I still don't know.
Looking back on hindsight I could say that I had been feeling a little more tired than usual, I was constantly falling asleep during the ONE show but I just put it down to it being so boring.
I was operated on 25 days after diagnosis and the surgeon told me at that point that I was cancer free - that it had been taken away.
But I still had 8 months of chemotherapy and radiation, I still had to go appointment to appointment and even after they stop it can be so hard to know where you really are on the journey.
If you could take Lyn from 8 months ago out for a coffee what would you say to her?
I think all of us can get caught up in the silly things in life. There's not really anything that could be said to prepare yourself for something like cancer but I'd say:
Have a sense of humour

Be honest

Plan things to look forward to
We first connected 6 months ago after you climbed Divis Mountain. What was the thought behind that?
We had been saying for years that we'd love to go up Divis, it was just one of those things we always had planned to do but never did.
I just got it in my head that I wanted to do it, so some people sort of asked "are you sure?" and I just said yes! So we scheduled a day to go.
We got up that morning and the weather was absolutely horrific and we just looked at each other and asked 'do we still want to do this?' and we did.
We actually did it again a few months later after I finished my radiotherapy and it was a glorious - beautiful day, we even walked further than we did the first time. It was a great milestone and an important part of my journey.
How has this journey changed you?
It's strange because cancer has opened up so many doors for us. Good ones and bad ones.
It's taken us on a journey that I never could have imagined from meeting a whole pile of amazing people we otherwise would have never met to going places we never could have gone.
But at the same time, it's opened our eyes up to how many people are affected by a cancer diagnosis and how the ripples travel further than you think.
I want to say that it's one of the best things that has ever happened to us. It's given us a kick up the backside and has made us doers.
What are you passionate about?
I started collecting pieces of broken pottery off the beach and making things with them. In fact, it came to be a bit of an obsession and it got to the point where the dining room table had grown into a workshop. At one point our kids sort of started to say 'we don't usually like to eat at the table but we'd like to at least once or twice!'
After that Richard got me a wee shed that I work out of right now.
'Picking Up The Pieces' is a passion that has grown and grown to the point where I've started selling the artwork and have even been commissioned to do some work. It's started me on a journey that I never would have considered before.
It's more than just artwork... I've had people come round to pick up a picture who have ended up sitting on the settee crying their eyes out and pouring out their own stories as a result. It's the type of thing that people open up to and can really connect to.
Other than that I am obsessed with the musician LP, I think she's incredible.
We also love Father Ted and have been having an annual 'Father Ted Day Out.' This year we went up to Limavady and had an absolute blast.
"My favourite thing in the world is locking the door on a Friday night and pulling the curtains over knowing that everyone is here, everyone is safe and all of us are together."
Overall my number one thing in life is my family, they are the most precious thing I have and played an irreplaceable role in my story.

How to connect with Lyn
We wanna thank Lyn so much for sharing her story.
If you are interested in connecting with Lyn or purchasing some of her art you can reach out to her on Instagram, Facebook or email at bexleybear@btinternet.com.
Lyn is also taking on commission work at this time.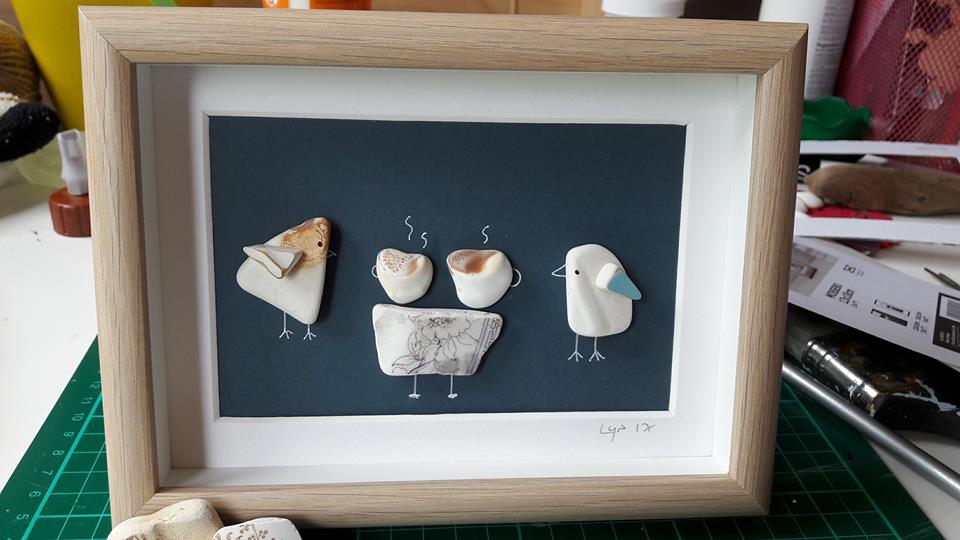 Lyn has offered a discount for our readers/listeners. Simply tell her 'Best Of Belfast' sent you.
Other than that thanks so much for reading/listening.
Until next time,
All the best!
- Matthew
P.S. To get the latest shows delivered to your inbox you can sign up to our newsletter here.